ARLINGTON, TEXAS – DECEMBER 29: A Notre Dame Fighting Irish cheerleader waves a flag during the College Football Playoff Semifinal Goodyear Cotton Bowl Classic against the Clemson Tigers at AT&T Stadium on December 29, 2018 in Arlington, Texas. (Photo by Kevin C. Cox/Getty Images)Not every program can make FBS Independence work. Notre Dame is an exception to the rule, and it allows the Fighting Irish to build some really impressive schedules, which send them to some of the biggest opposing stadiums, and a number of unique other locales, in the football world.They step it up over the next few years too. Notre Dame has games against many of the biggest programs in the sport, and even takes a trip abroad in 2020.Per FBSchedules, the Fighting Irish have games set through 2037 as of now.  The program plays five games per year against ACC programs as part of its partial league membership.And, as a potential point of pride, after today's USC-UC Davis announcement for 2021, only two teams have never player, or scheduled, a game against an FCS school: Notre Dame and UCLA. USC has scheduled its first-ever FCS opponent, UC-Davis, for 2021. … Notre Dame and UCLA the only ones left.— Stewart Mandel (@slmandel) July 12, 2019Here are the eight best match-ups currently on the books for Notre Dame over the next few years.We start things overseas, interestingly enough…8. Notre Dame vs. Navy in Dublin, Ireland (2020):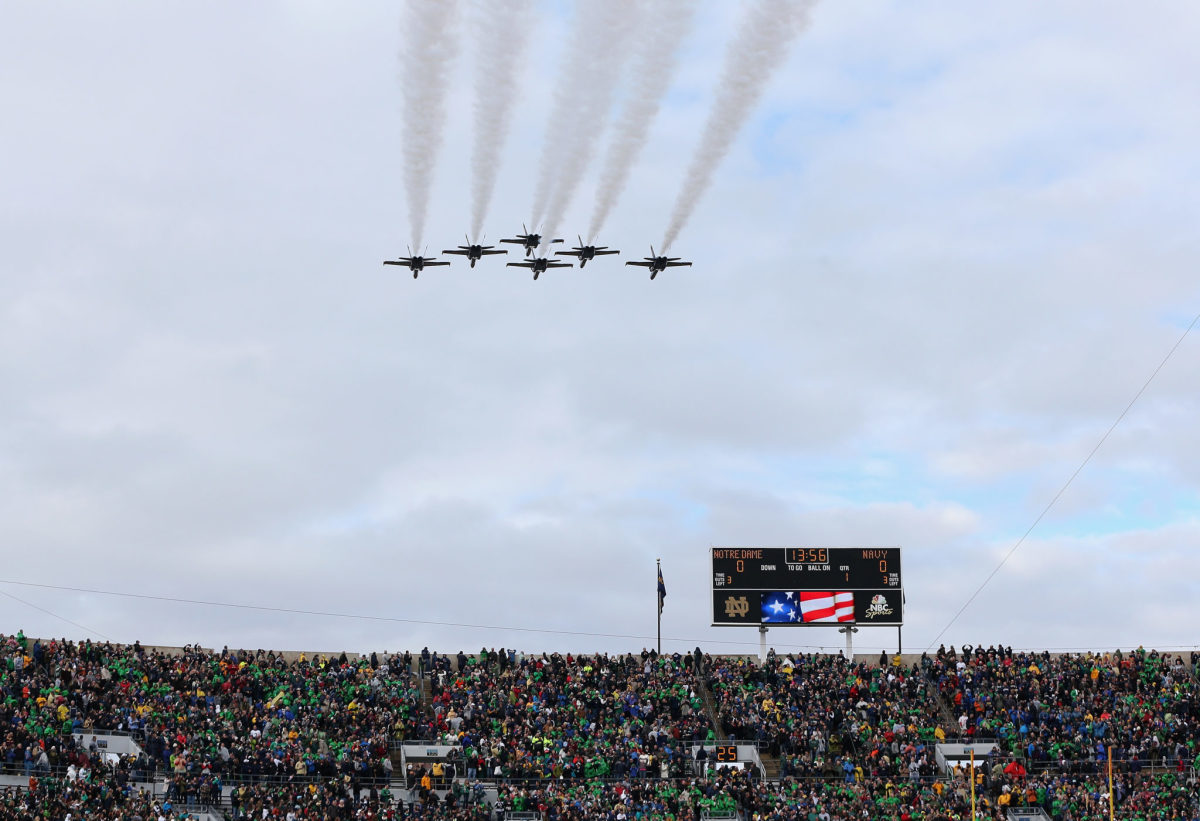 (Photo by Jonathan Daniel/Getty Images)The Fighting Irish have faced off against the Naval Academy every year since 1927, making it the second-longest uninterrupted rivalry in the FBS, after Navy helped ND through rough financial times during World War II. In response, the Fighting Irish have kept this rivalry going, despite mounting scheduling challenges that have caused interruptions in some other series.When Navy hosts the annual game, a neutral stadium is usually selected, often in a city that has ties to both the Notre Dame and U.S. Navy. That is the case for Dublin next year, which has obvious cultural attachments for Notre Dame. Ireland has also been home to U.S. Naval bases.7. Notre Dame at Texas A&M (2024):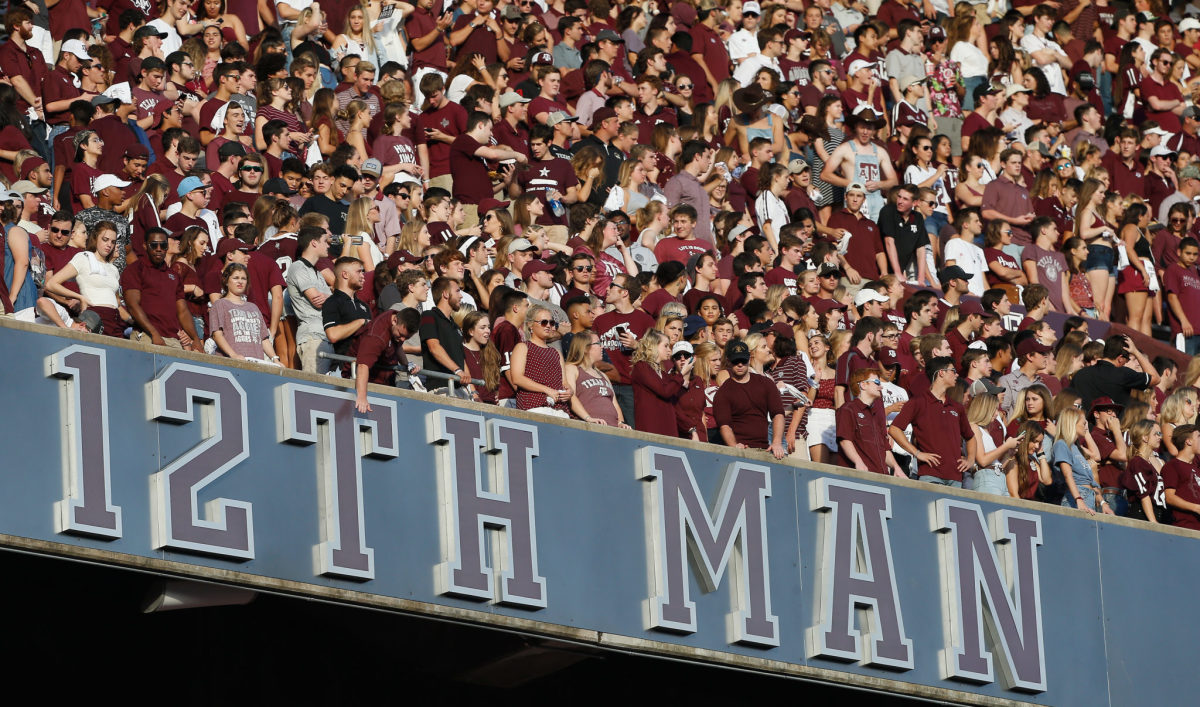 (Photo by Bob Levey/Getty Images)Kyle Field is one of the most impressive venues in college football, and a rare destination for the Fighting Irish. These two sides have faced off five times, but three were in the Cotton Bowl.Back in 2000-01, the Fighting Irish and Aggies split a home-and-home series. The 2001 edition of the game was in College Station, a 24-3 Aggies win.6. Notre Dame at Ohio State (2022):
(Photo by Jamie Sabau/Getty Images)The Fighting Irish and Buckeyes share a hated rival: Michigan. The two sides haven't faced off all that often, though. The last two games were played in the 2006 and 2016 Fiesta Bowls, both blowout wins for the Buckeyes.In 1995-96, Ohio State swept the last home-and-home between the two. Notre Dame's last win against its recruiting rival and fellow Midwestern superpower came in 1936. A win for Brian Kelly's squad in Columbus would be one fans would truly savor.5. Notre Dame vs. Clemson (2020):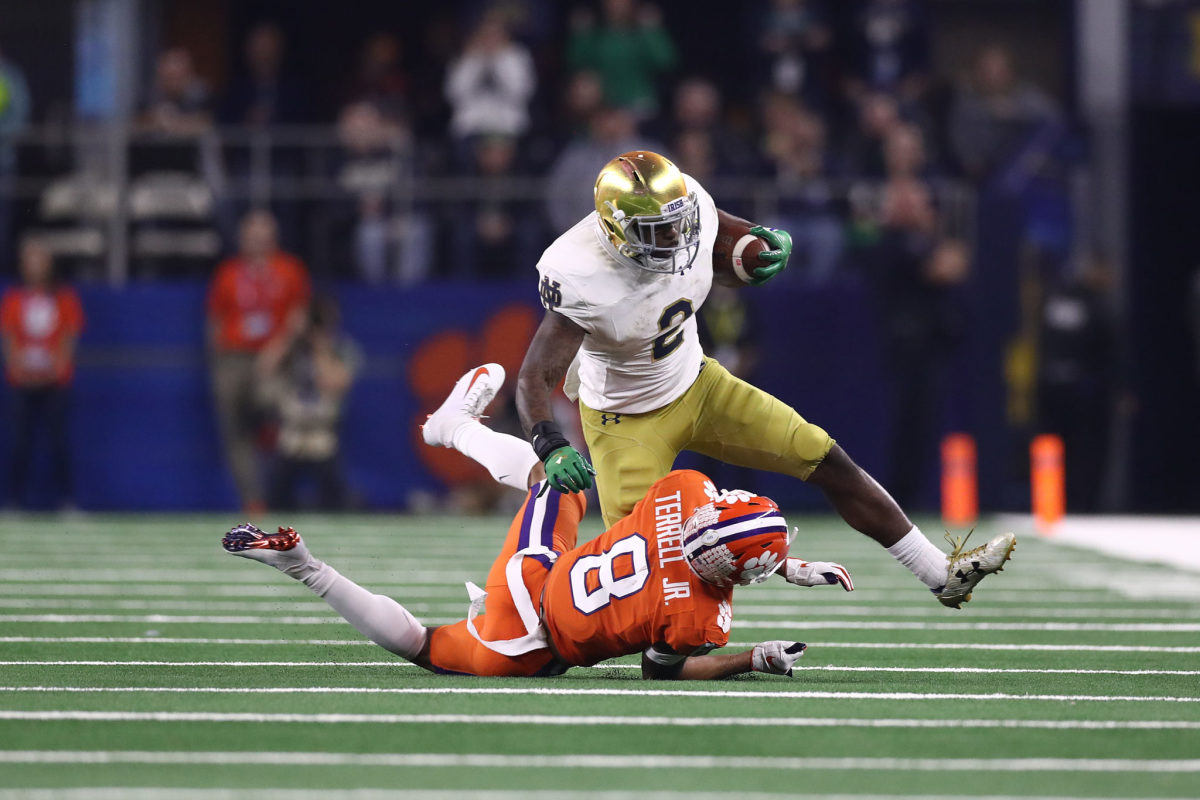 (Photo by Ronald Martinez/Getty Images)Notre Dame won't have to wait long for a chance to avenge the 2018 College Football Playoff semifinal blowout loss at the hands of the Tigers. Thanks to the ACC arrangement, Dabo Swinney's Tigers are heading to South Bend next fall.Given Clemson's returning talent, that may very well be the two-time defending national champion Tigers, at that. The last time the Tigers made that trip to South Bend was 1979, when they also beat Notre Dame, long before they were the power they are now. Notre Dame is just 1-3 all time against Clemson.4. Notre Dame vs. Wisconsin in Green Bay, WI (2020):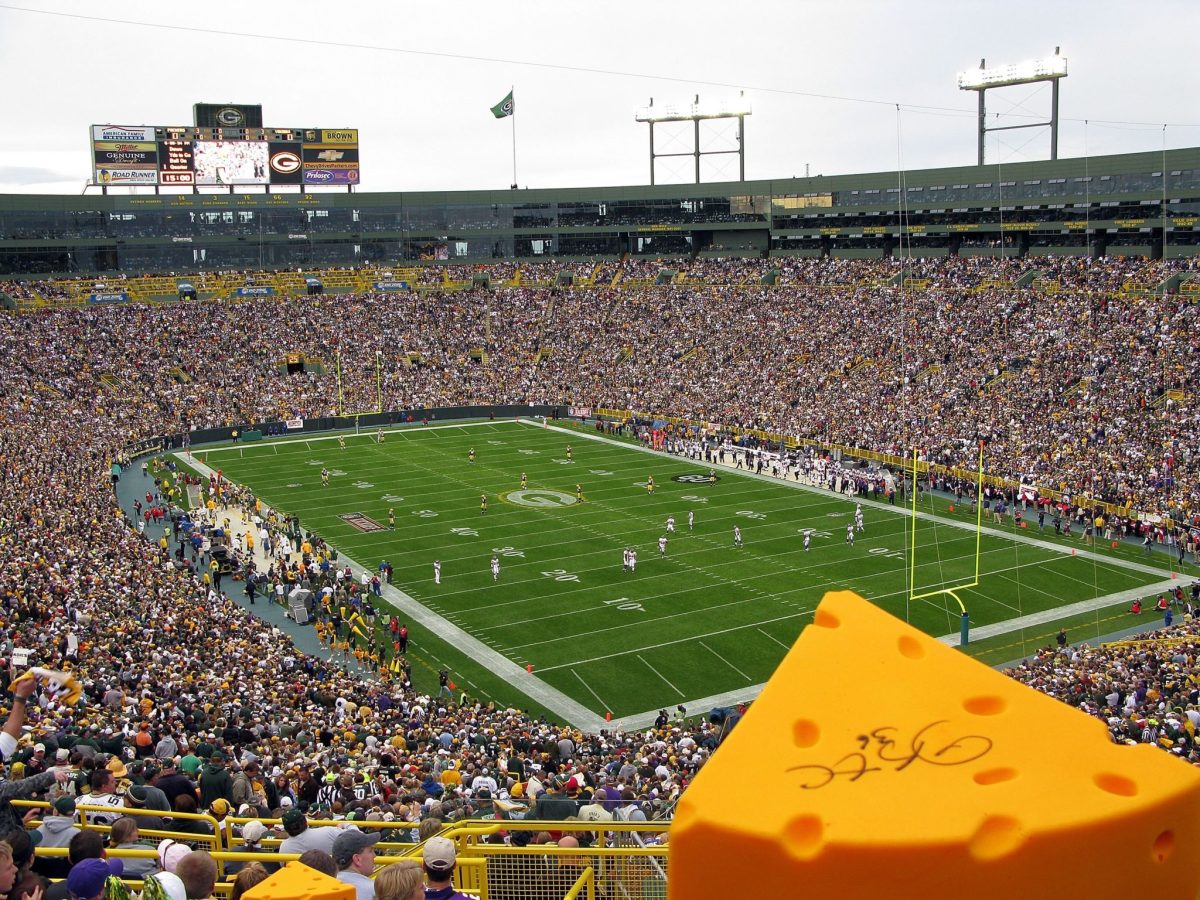 (Photo by Maxx Wolfson/Getty Images)The Badgers are a great program, but don't carry quite the same juice as some of the opponents that have come before them on this list. Quite simply, there aren't that many chances for college football programs to play at stories Lambeau Field though.Wisconsin recently beat LSU at Lambeau, and has Alabama making the trip soon as well. Notre Dame and Wisconsin used to play somewhat regularly, but haven't faced off since 1964. The Fighting Irish hold a narrow 8-6-2 all-time series lead.3. Notre Dame at Michigan (2019):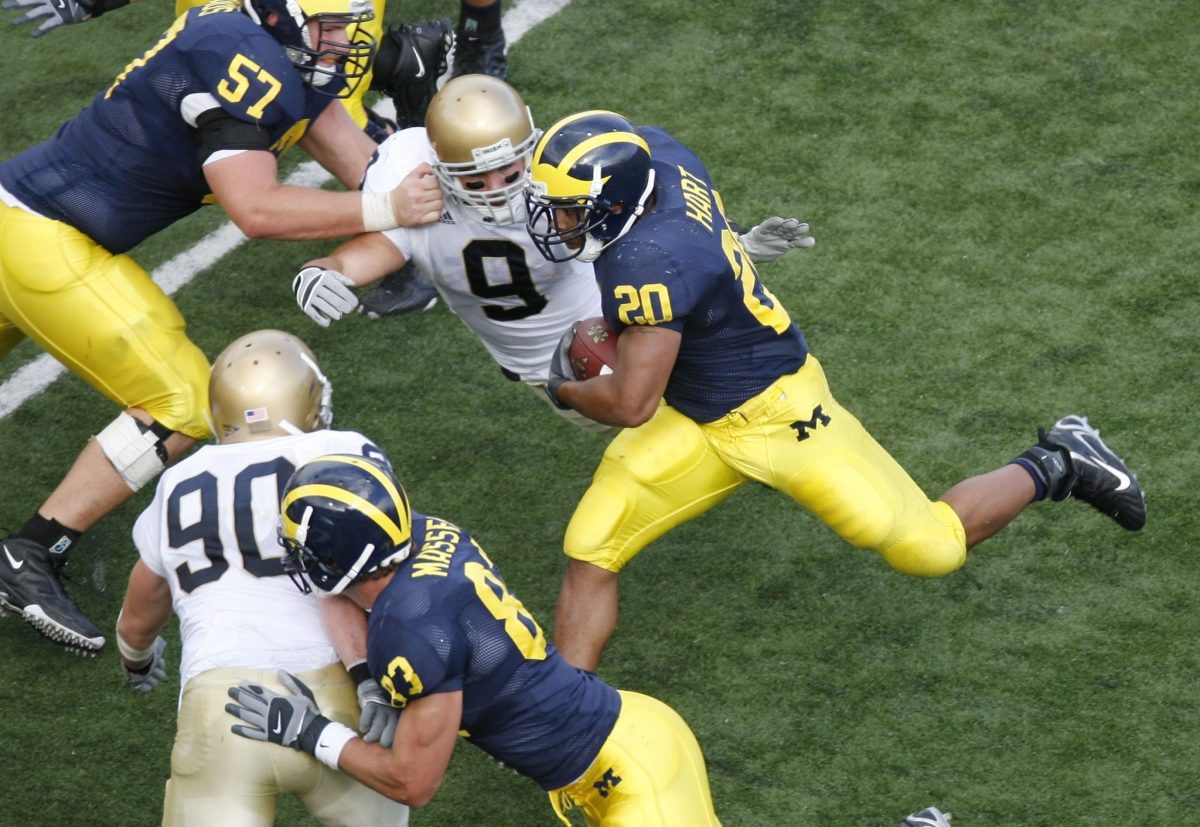 (Photo by Gregory Shamus/Getty Images)We've seen plenty of Notre Dame-Michigan games over the years. They are often big match-ups, but don't always carry the national significance that this fall's game could.Notre Dame is coming off of a College Football Playoff trip. Michigan is the Big Ten favorite and has serious Playoff buzz, and Ohio State retools post-Urban Meyer. Last year's win over Michigan helped vault the Fighting Irish into the CFP picture. Both sides could use a similar lift this year.2. Notre Dame at Georgia (2019):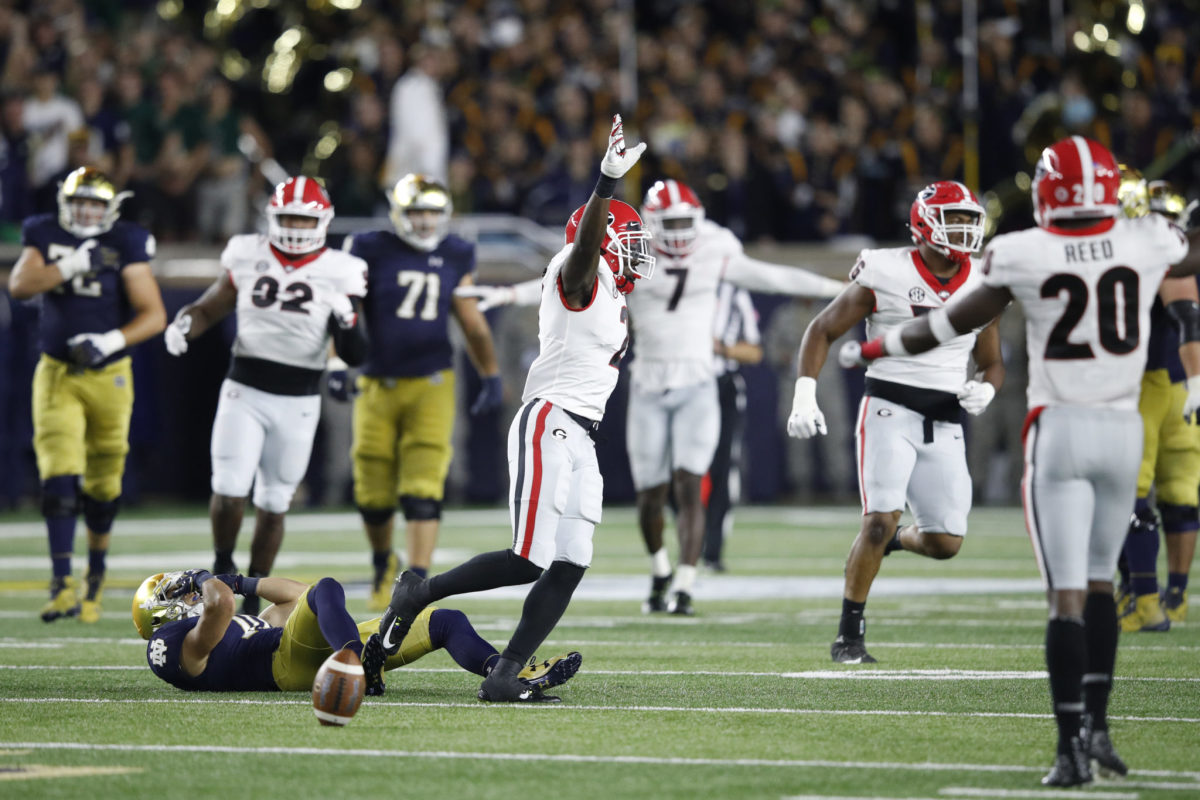 (Photo by Joe Robbins/Getty Images)…and that isn't even the biggest road trip of the year for Brian Kelly's team. The Fighting Irish head down to Athens for a return date with another CFP hopeful, the Georgia Bulldogs.Georgia is 2-0 in this series, winning the most recent game in 2017 at Notre Dame Stadium, 20-19. That helped push the Bulldogs well into the Playoff picture. They ultimately lost to Alabama in the national title game, after winning the SEC.1. Notre Dame vs. Alabama (2028):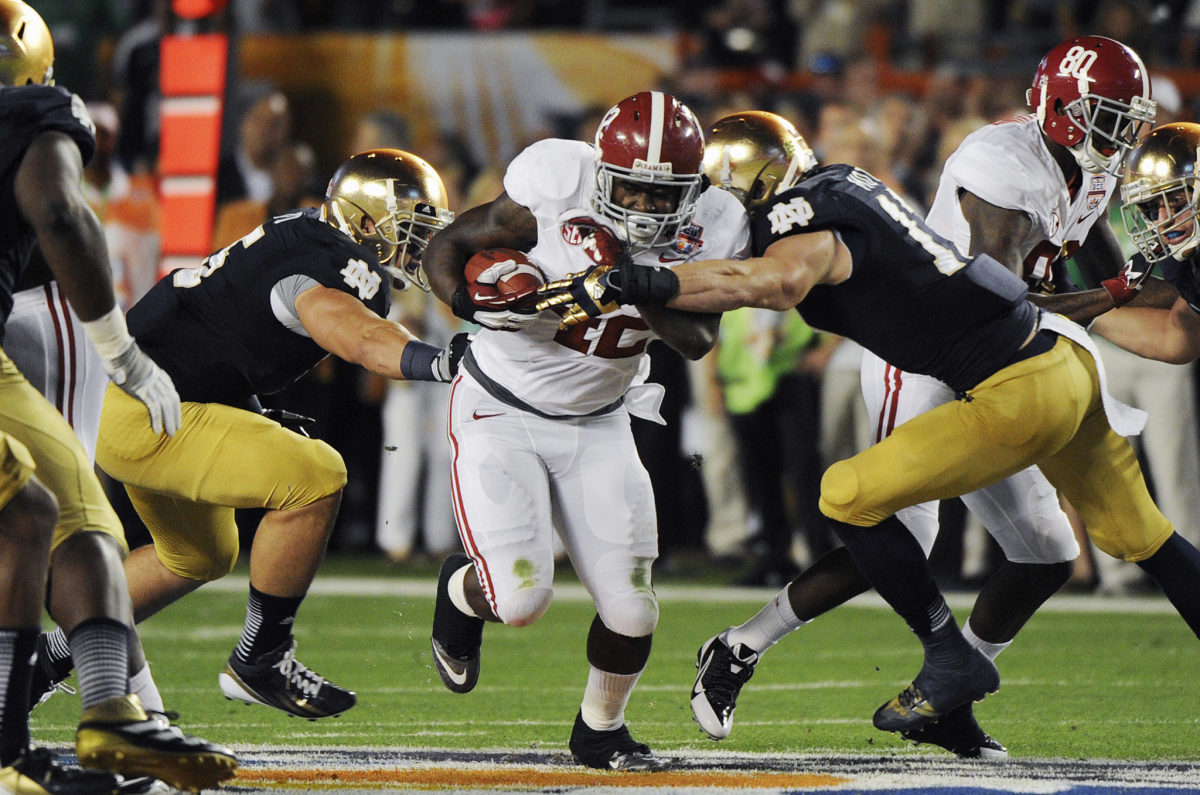 (Photo by Ronald C. Modra/Sports Imagery/ Getty Images)Speak of the devil, the Crimson Tide are also on the future schedule for Notre Dame. The two sides have a home-and-home set way down the road in 2028-29. Barring a post-season meeting or late addition to their packed slates, this will be the rematch of the 2012 BCS National Championship, a game Notre Dame would rather forget.Before that, the two sides last faced off in 1987, a dominant Notre Dame home win. Alabama doesn't head North too often, and this is a game we've only seen seven times in history, despite these being arguably the two most stories college football programs in history.It is very early, we know, but jot down September 2, 2028 in your calendar. You're going to want to be in South Bend… or at least, in front of whatever the biggest TV the not-too-distant future will bring.